DKW 1800 series
Since 1999 Stentec Software provides the digital version of the hydrographic charts of the Netherlands. Thanks to the weekly BaZ Update Service you will always have the latest, most up-to-date charts. The charts can be ordered as separate sets or as a complete package.
At a time like this where there is no certainty about the releases of the 1800-series charts by the Dutch Hydrographic Services, this is a unique product. With the free weekly update service and the ability to use the charts on a laptop as well as on an Android device, a up-to-date chart of these busy and unpredictable waters is always at hand. As soon as a new paper version of the charts are released, users can download these directly in digital form. If desired, the charts can also be printed for personal use.
The Waddensea charts 1811 and 1812 are supplied with monthly updated depth images from Rijkswaterstaat.
---
Chart coverage
The different sets in the DKW 1800 series consist of a.o.
Northsea coast
Westerschelde
Oosterschelde
Zoommeer
Nieuwe Waterweg
IJsselmeer
Waddensea West
Waddensea East
---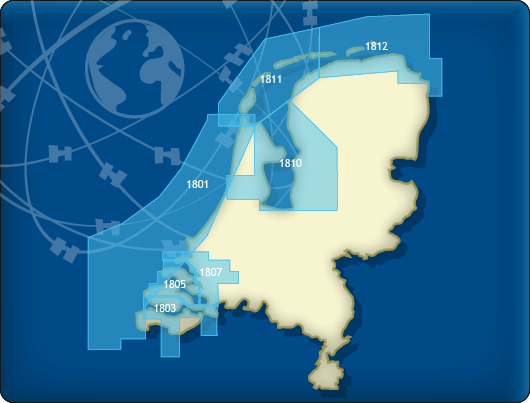 Click on one of the chart areas to go to the corresponding chart set in our webshop.
---
Detailed screenshots
---
All products in the DKW 1800 series
DKW 1800 Complete
8 Overview charts
216 Detailed charts

DKW 1800 North
4 Overview charts
120 Detailed charts

DKW 1800 South
4 Overview charts
96 Detailed charts
DKW 1801:
Northsea coast
1 Overview charts
20 Detailed charts

DKW 1803:
Westerschelde
1 Overview charts
18 Detailed charts

DKW 1805:
Oosterschelde
1 Overview charts
33 Detailed charts
DKW 1807:
Zoommeer
1 Overview charts
29 Detailed charts

DKW 1809:
Nieuwe waterweg
1 Overview charts
16 Detailed charts

DKW 1810:
IJsselmeer
1 Overview charts
60 Detailed charts
DKW 1811:
Waddensea west
1 Overview charts
18 Detailed charts

DKW 1812:
Waddensea east
1 Overview charts
22 Detailed charts
---
Read about the annual changes made to the charts via the link(s) below.
---
System requirements:
PC/Laptop: Windows XP, Vista, 7, 8 or 10 with DirectX 9 Videocard (or higher).
Tablet: Android operating system, minimal 2Gb RAM.
This chart can be used in the free WinGPS 5 Lite for Windows and can be installed on your WinGPS Marine app for Android. For precise route planning with a rotating map and AIS we advise using WinGPS 5 Pro or WinGPS Marine (paid version).