WinGPS Voyager
developed by and for sailors

Stentecs top navigation program helps you plan the optimal route, providing extra security for long journeys and benefits in competitions. Voyager shows the fastest, shortest and cheapest route, both by engine and sail.

Easy to plan 'standing mast route'.
Up to date weather and currents information from GRIB files.
Polar diagram for optimal route planning (more than 3000 available ships).
Up to date current and tidal information from the 'Kustfijn model'.
Interactive route planning.
Connect NMEA instruments: wind meter, depth meter, autopilot, log, compass and AIS.
AIS extrapolation mode (AIS-XT).
Take a look into the future with the time bar for the weather, currents and water levels as well as the route and AIS objects.
---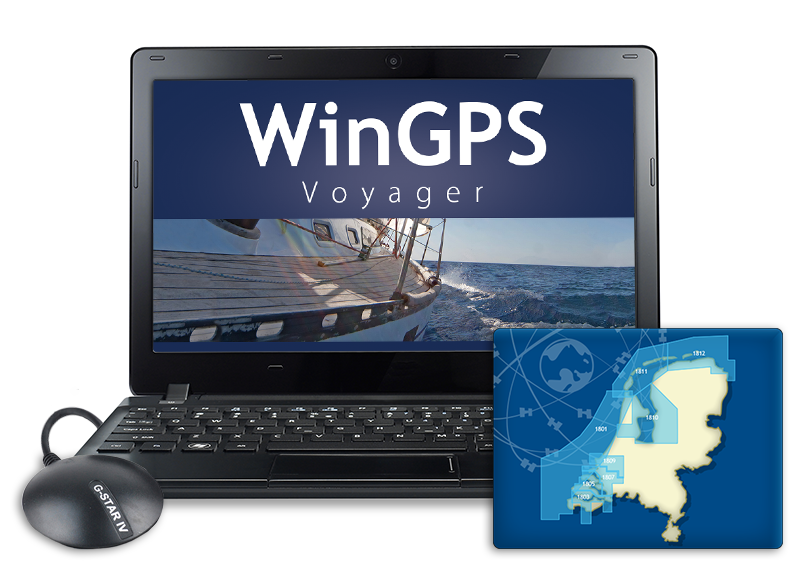 GPS navigation on your laptop
WinGPS Voyager is an interactive route planner which you can install on your Windows laptop. Connecting the on-board instruments changes your laptop into a complete navigation center. Connect a second monitor (such as a waterproof touchscreen) to your laptop or install the charts on an Android tablet, so that you can also view and edit the route if the situation has changed from outside as well.
---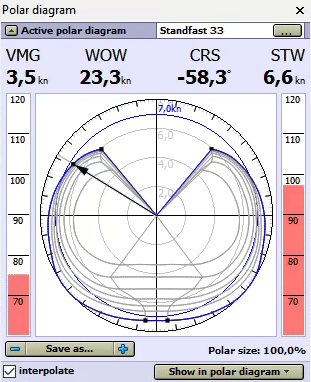 Polar diagram
De biggest added value of WinGPS Voyager to Pro is the route optimization thanks to the use of a polar diagram during the planning of the route. In a polar diagram, the speed of a sailing ship is recorded at different wind speeds and courses, and is therefore unique to each ship.
In addition to the measurements of your ship, in WinGPS Voyager you can select the polar diagram of the sailing ship from over 3000 included polar diagrams. Is your ship not included? Record your own polar diagram with Voyager and connected wind meter, or adjust an already existing polar diagram to the desired data. While sailing, you can see if you are sailing the optimal course and getting the maximum speed from your ship.
WinGPS Voyager contains polar diagrams of over 3000 different types of boats, including: Baltic, Bavaria, Beneteau, Breehorn, Contest, Dehler, Dufour, Elan, Etap, F&F, Feeling, First, Friendship, Gib'Sea, Grand Soleil, Halberg Rassy, Hanse, Hunter, J22-92, Jeanneau, Kolibri, Koopmans, Maxi, Nicholson, Oceanis, Optima, Solana, Sigma, Spirit, Standfort, Sunfast, Sun Odyssey, Swan, Sweden, Trintella, v.d. Stadt, Victoire, Waarschip, Winner en X-yacht.
---
GRIB files
Download GRIB files for your weather forecast for the next 7 days as a good preparation for your trip or race. Voyager can help you plan the optimal route, taking into account the wind. Look ahead in time with the time bar to see how the weather will develop.

---
Stream, tides, water heights and waves
In some sailing areas, such as the Wadden sea, the water can be very unpredictable. With the annual stream and tidal information from NLtides, which is produced by the Dutch Hydrographic services, it's possible to look forward in time to determine when a crossing can best be planned.
A few days before your voyage you can download the detailed stream information, water heights and actual depths from within the 'Kustfijn-model'. This model is based on data from Rijkswaterstaat, including current weather influences such as wind propulsion.
If you are planning a trip to the German Bight, Balticsea, Northsea or the English Channel, you can download GRIB files for the current stream data. This data is provided by the BSH, the German Hydrographic services, which gives you predictions for the next 3 days.
Some times it is possible to get annoying high waves due to a combination of high wind and stream. understandibly, you would want to avoid these waves in stead of them catching you by surprise. Thanks to the GRIB Files for wave prediction from the NOAA, it is possible to set a maximum wave height which will show you exactly which areas to avoid. Follow this link for an example.
All of the data mentioned above can be added to the route plotting, along with the current wind and the polair diagram.
For the inland waters NAP measuring stations are added in WinGPS. These stations show the actual water heights for the Dutch inland waters, made available by Rijkswaterstaat. As soon as the shipping notifications have been updated within WinGPS, the NAP measuring stations will also have been updated.

---
Route optimization
After setting up the polar diagram and downloading the latest GRIB files for weather forecast, you can start planning the optimal route. You only need to enter the route points and WinGPS Voyager gives you advice, taking into account the wind, currents and the characteristics of your ship. The arrival time and passing times along the route points are shown immediately, allowing you to instantly see if your route is safe. By dragging the time bar, you will immediately see what will happen on the chart. Ideal for example for the Wadden or the crossing to England.

---
Standing mast route
Is the wind too tough to sail the open waters? Then you can quickly and easily plan a route over the 'standing mast route' and immediately see how long the journey takes, considering all bridge and lock information.
---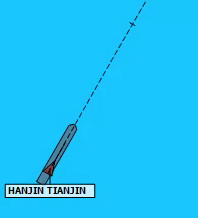 Safe navigation with AIS
If you have an AIS device, you can connect this to WinGPS Voyager. This will show the AIS objects on the chart, including name, MMSI number, call sign, measurements, destination, freight and, of course, speed and course of the ship. Indicate your CPA and Voyager will give you a warning when a ship is on collision course. The AIS object will light up, so you can call the ship directly with the call sign and match the course plans.
For your own ship, as well as for AIS ships, the predicted track can be displayed on the chart. AIS-XT, or AIS extrapolation technology, will show the AIS traffic over your charts fluently. Convenient for assessing a traffic situation and making a turn. With the time bar, the track can be simulated to see which AIS ships will be crossed.
The ships will be shown at scale (as well as your own ship) when zoomed in on them. Ideal for when you are sailing on rivers and are unable to see behind the corner. This way you can see if the AIS object is a small pleasure craft or a large inland commercial vessel.
---
Your reliable partner onboard and at home
A big advantage of WinGPS Voyager is the option to install the program on 2 systems, so that you can plan the route on a big screen at home to prepare your trip. This is especially ideal with longer, more complicated routes, for example crossing the Waddenzee. Look ahead in time with the time bar and decide the best departure time, based on currents, tides and wind: downloading the up to date water levels for the Waddenzee or IJsselmeer, also known as the Kustfijn model, makes planning your route even easier.
While sailing, WinGPS Voyager keeps a logbook with data from connected board instruments, your route and any user entries. You can analyze your sailed track in detail later. When at home, you can print or email your tracks and logbooks, or place them on your website. Nice for your family at home or the crew.
In combination with WinGPS you can use Stentec's digital chart, also known as DKW charts. Make sure they are up to date when you start planning the route. Print the route table and possibly the updates charts of important areas on the route. This way you are well prepared for your trip!
Note: WinGPS Voyager is prepared for malfunctions in your GPS by sunflowers. As a result of increased solar activity, solar flames will become increasingly frequent, which can cause huge GPS disturbances. WinGPS Voyager is set up for this and will pass on your position safely.
---
System requirements:

Windows Vista, 7, 8, 10 or 11
DirectX 9 video card (or higher)
570MB disk space.

Program changes:
Visit the link below to read what has changed the past year in WinGPS Voyager.
To be sure that WinGPS will work properly on your system, you can install our free WinGPS Lite. When WinGPS Lite is running on your system without any problems, then WinGPS Navigator, Pro and Voyager will also work flawlessly. You can download WinGPS Lite here for free.