DKW Imray series
Since 2009 Stentec Software publishes the famous Imray charts digitally. These are based on the paper charts and feature the same well known Imray colors. A great advantage of these charts is the large area coverage per set.
---
Chart coverage
The different sets in the DKW Imray series consist of a.o.
English & Scottish Eastcoast
English Channel
British Westcoast & Ireland
Alantic coast France, Portugal to Gibraltar
Mediterranean West
Mediterranean Central
Mediterranean East
Caribbean East
---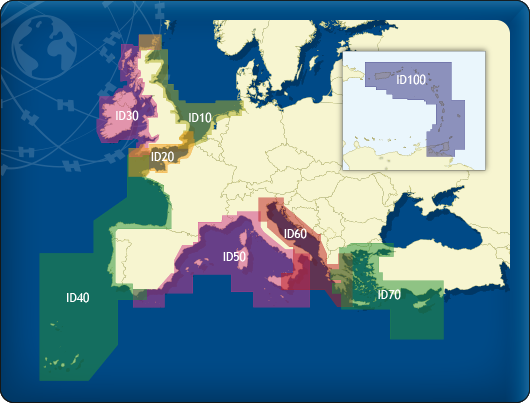 Click on one of the chart areas to go to the corresponding chart set in our webshop.
---
Detailed screenshots
---
All products in the DKW Imray series
DKW ID10
English & Scottish Eastcoast
14 Overview charts
145 Detailed charts

DKW ID20
English Channel
12 Overview charts
216 Detailed charts

DKW ID30
British Westcoast & Ireland
27 Overview charts
273 Detailed charts
DKW ID40
France, Portugal to Gibraltar
20 Overview charts
188 Detailed charts

DKW ID50
Mediterranean West
32 Overview charts
92 Detailed charts

DKW ID60
Mediterranean Central
25 Overview charts
88 Detailed charts
DKW ID70
Mediterranean East
36 Overview charts
106 Detailed charts

DKW ID100
Caribbean East
14 Overview charts
109 Detailed charts
---
Read about the annual changes made to the charts via the link(s) below.
---
System requirements:
PC/Laptop: Windows XP, Vista, 7, 8 or 10 with DirectX 9 Videocard (or higher).
Tablet: Android operating system, minimal 2Gb RAM.
This chart can be used in the free WinGPS 5 Lite for Windows and can be installed on your WinGPS Marine app for Android. For precise route planning with a rotating map and AIS we advise using WinGPS 5 Pro or WinGPS Marine (paid version).