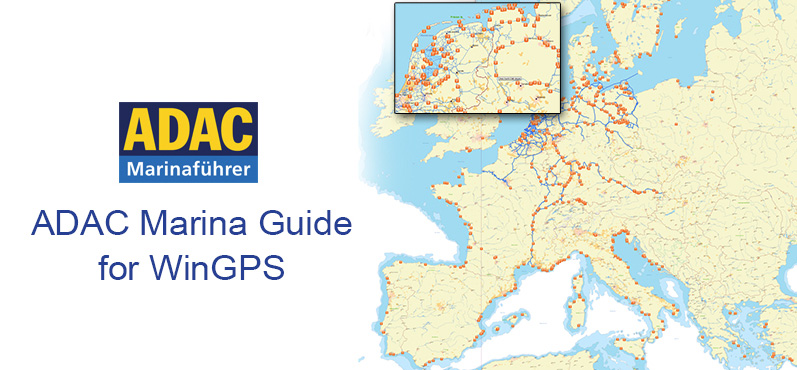 ADAC Marina guide for WinGPS
In collaboration with the German ADAC, Stentec presents the ADAC Marinaführer (Marina Guide). This convenient database gives you detailed information for multiple European countries.
The ADAC will no longer publish their renowned Marinaführer in physical edition. It is now exclusively available at Stentec and will be delivered with WinGPS 5 Lite and the new Stentec world chart. The previous (paper) 2010 edition contained information about marinas in Germany and Europe. The version was updated and enhanced to no less than 1638 ADAC marinas in 20 countries.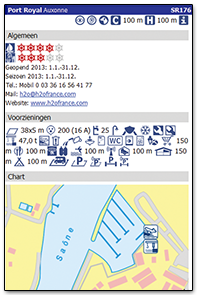 Marina information
With a single mouse click all information about the marina will apear with handy marina plan. Contact info, accomodations and even prices will be shown.
An easy filter makes it possible to show only the accomodations you wish.
ADAC
The ADAC (Allgemeinen Deutschen Automobil-Club) was founded in 1903 and now has more than 17 million members, 2 million of which are active water sporters. The ADAC Marina Guide is a perfect addition to your charts. Below are a few combinations of charts with the ADAC Marina Guide.
---
DKW Water chart Netherlands

The ADAC Marina Guide is a perfect match with the DKW Water chart Netherlands. You can see the improvements to the depth information.

From €79,90

DKW 1800

The DKW1800 charts safely bring you to the marinas. The weekly BaZ update ensures that your charts remain up to date.

From €24,90

DKW Imray

On the DKW Imray charts the marinas are also a perfect addition. Presented here is an example in The Channel. The French coast and Mediterranean are also covered in the ADAC Marina Guide.

From €99,90

WinGPS 5

The ADAC marina guide only functions in WinGPS 5 programs among which the free WinGPS 5 Lite. The routework is not only fully updated in WinGPS 5, it also has been expanded to Germany, Belgium and parts of France.

Variable prices