Motorboat Simulator
Learn the most important aspects of sailing on the PC, such as docking, maneuvering and navigating with our very realistic Motorboat Simulator 1.2. The realistic water with variable flow and wind-based waves and the natural occuring wind with gusts and windshifts, are based on the techniques of our popular Sail Simulator 4.
Make use of the various available onboard instruments. Plot a route on the digital map, view your position with the GPS and navigate with your compass to the next waypoint. It is also possible to engage the autopilot and see how the tachometer responds to the waves that the ship encounters.
Fleet
Your fleet consists of several types of ships, each with their own way of handling:
Single thrusted motor cruiser with bow thruster (32', 4 tons, 65 hp).
Classic speed boat with outboard motor (14', 18 hp).
Classic Dinghy (25', 10 hp diesel).
Tugboat (64,6', 150 hp diesel).
No Limit 1500, double thrusted Ocean cruiser (15 m, 18 tons, 2x480 hp).
KNRM Koning Willem 1 rescue boat (18.8m 28 tons, 2x1000 hp).
Multiplayer
By default the Motorboat Simulator is single player. You will not encounter any other ships while playing. To make the digital sailing even more realistic, it is possible to sail with others. This can be done via the internet or via a local area network (LAN). This allows traffic rules to be tested or you can explore the coast of England together.
Sailing areas
The following areas are included in Motorboat Simulator. It is also possible to make your own areas with the scenery tool, or to import areas made by other users.
Ile d'Oussant – France
Bodenmeer – Germany
Vierwoudstedenmeer – Swiss
St Martin – Antilles
Motorboat Simulator instruction area (fictional)
Screenshots
Video
System requirements:
Windows 95, 98, XP, Vista, 7, 8, 10 or 11. Pentium III 350Mhz, 64MB RAM, 175MB HD. DirectX 9 compatible video card.
---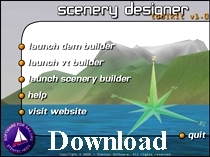 Scenery designer toolkit
Maak uw eigen vaargebieden van DEM-files of digitaliseer van gescande navigatiekaarten. Er is een gratis demo inbegrepen voor het maken van kleine vaargebieden. Voor het maken van grotere vaargebieden heeft u de betaalde versie van de Scenery Designer Toolkit nodig.