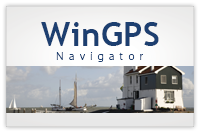 WinGPS 5 Navigator
Winner 'Hiswa Innovatieprijs 2011' for best route planner.
GPS function with position following chart.
Route planner for open water and inland water ways.
Up to date weather information from GRIB files.
Plan ahead with the time slide.
Anchor Watch.
Free Planning chart of The Netherlands.
Easily and affordably upgraded to WinGPS 5 Pro or Voyager.
GPS navigation on your laptop
WinGPS 5 Navigator is a route planner you can install on your (Windows) laptop. This turns your laptop into a navigation system. Based on WinGPS 4 Navigator, the most used navigation software on the Dutch inland waters and IJsselmeer, WinGPS 5 is directed at the wishes of our users. It is simple to learn and easy to use. It can be used with a USB GPS receiver or a NMEA 0183 GPS connection on your laptop.
Route planner for the water sporter
WinGPS 5 Navigator is equiped with a route planner which is easy to use. Simply enter your dimensions once and you are ready to set your routes. Enter your starting point and destination and your route will automatically be created. Our program makes sure you only get a route you can sail, so it looks at the heights/widths and depths of Bridges/Locks and even the operating times. You may configurate WinGPS 5 to your liking, if, for example you rather stay away from the sea, you can enter this easily.
Your reliable partner onboard and at home
A big advantage of WinGPS Navigator is the option to prepare your route at home. You are able to install the program on 2 systems. The GRIB-files can be downloaded 7 days in advance and with the time slide in WinGPS you can see the forecast during your jouney.
We recommend having up-to-date charts and printing them and your route overview. During your travels, WinGPS Navigator keeps a log for analyzation at a later time.
Free updates
We will keep updating WinGPS 5 Navigator. This way there will be frequent updates which will be free to download for license holders. These can easily be downloaded trough the 'search for updates' button. If you are connected to internet, WinGPS will look for the most recent version of the program.
---
System requirements:
Windows XP, Vista, 7, 8 or 10 with DirectX 9 video card (or higher).
When WinGPS 5 Lite is running on your system without any problems WinGPS 5 Navigator, Pro and Voyager will also work flawlessly.