DKW Northwest Germany
The DKW Northwest Germany is developed for sailors, motorboaters and commercial use within Central Europe. DKW Northwest Germany is available as download.
---
Chart specifications
This hybrid chartset consist of, a.o.
1 Overview chart (scale 1:72.000, 20m/pixel)
46 Detailed charts for orientation and route planning (scale 1:7.200, 2m/pixel). 
Waypoint database with 14.103 waypoints for a.o. buoys, marinas, moorings, diesel filling stations, water camp sites and VHF channels. Also included are waterway signs and VIN berths for commercial use. Waypoint groups can be plotted on the charts individually.
---
Chart coverage
Included in this set are, a.o.
The Rhine between Leverkusen and Lobith (km. 700 - 785)
The sailable channels and rivers in the Ruhr area
Thee Ems and the Dortmund-Emskanal 
The Mittellandkanal and Stichkanalen
The Küstenkanal 
The Ems-Jade-Kanal 
The Veenkanalen between Emden and Oldenburg 
The Weser until the connection with the Hünte (km 33) 
The Aller 
The Elbe between Bleckede and Hamburg (km. 550 – 610) with the Elbe-Lübeckkanal, the Elbe-Seitenkanal and the Schifffahrtweg Elbe-Weser
---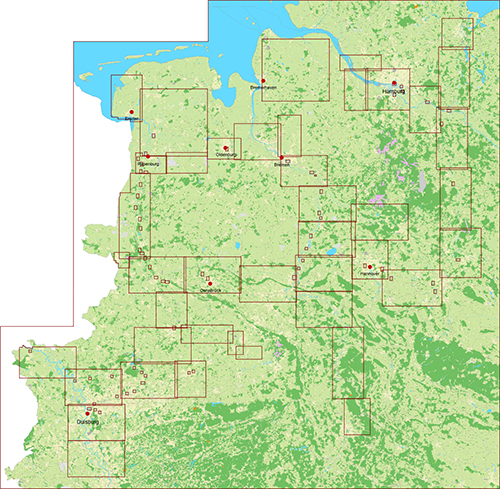 Click the image for a larger view.
---
Detailed screenshots
---
Connecting chart sets
---
About the source material
With the use of additional resources and the processing of comments and suggestions of many sailors, the DKW Northwest Germany is updated annually. The base chart is based upon, where available, the official inland ENC charts.
System requirements:
PC/Laptop: Windows XP, Vista, 7, 8 or 10 with DirectX 9 Videocard (or higher).
Tablet: Android operating system, minimal 2Gb RAM.
This chart can be used in the free WinGPS 5 Lite for Windows and can be installed on your WinGPS Marine app for Android. For precise route planning with a rotating map and AIS we advise using WinGPS 5 Pro or WinGPS Marine (paid version).