DKW Northeast Germany 2018
The 2018 edition of DKW Northeast Germany is available in our webshop! In the new edition a large number of changes were made. Below you will find a summary of the most important updates.

The DKW Northeast Germany is developed for sailors, motorboaters and commercial use. Giving a clear overview of the German waterways and ideal in combination with a full version of WinGPS. Thanks to the route network you can quickly plot a course over the inland waters of Northeast Germany, up until Prague.

The DKW Imray chart sets can be used in WinGPS 5 (for Windows) and in WinGPS Marine (for Android). When purchasing the chart set, you will also receive several updates which are released throughout the coming year.
New in 2018
On the Elbe, the beacons have updated icons which resemble reality with added crosses: St. Joris or St. Andreas.
The Nottekanal, south of Berlin, has been made sailable and is now visible on the chart.
City names will stay upward when the chart spins in course-up mode.
The colour palette for the water ways has been changed from the ENC to our own standard version: deeper water becomes a darker blue.
The usual changes in buoys, depths, signs, etc.


Illustration 1: New icons for crosses.


Illustration 2: The new Nottekanal.
Covering area
All bigger Northeast German waterways are included in this chart set, from the German Baltic coast up until Prague. Including: the Moldau, Saale, Peene, Havel, Müritz, Spree, Elbe, Oder and West Oder.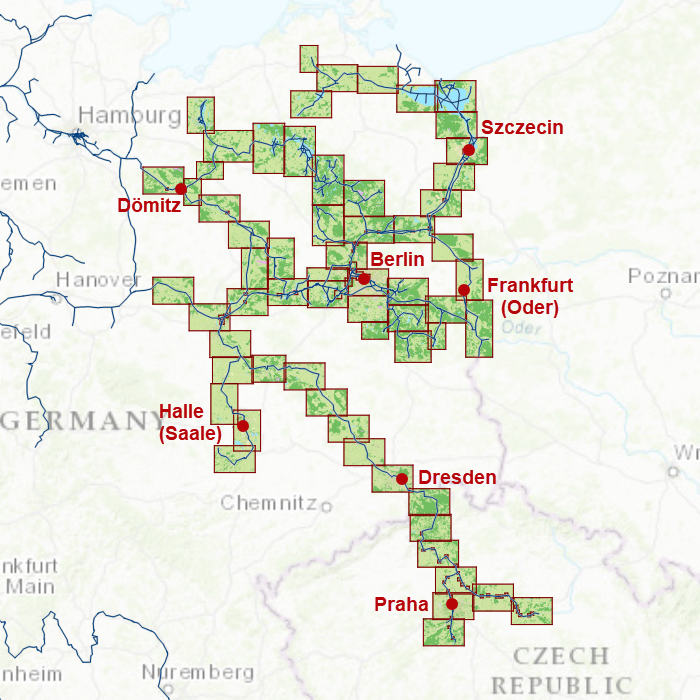 Upgrade from 2017
If you have a 2017 license of the DKW Northeast Germany, you can buy a special priced upgrade edition.