Last update WinGPS 5 Pro & Voyager 2018
Last week we released the last update for WinGPS 5 Pro & Voyager 2018. Below you will find a description of the updates, among which the addition of ENC charts and the new tidal data for 2019.
ENC charts in WinGPS 5 Pro & Voyager
WinGPS 5 Pro & Voyager 2018 now support the use of ENC sea and inland charts. This complies with the obligation of the new German law to use IENC on German water highways, as defined by the WSV. This update has been specially developed for commercial use.
Free IENC charts cab be downloaded via the website of Rijkswaterstaat (Dutch). This contains the larger water ways for the Netherlands, France, Austria, Belgium, Germany, Croatia, Serbia, the Czech Republic, Romania, Slowakia, Hungary, Bulgaria, Switzerland, Poland and the US.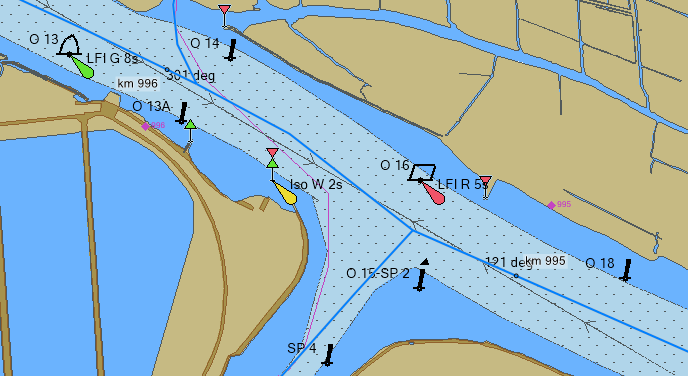 With WinGPS 5 Pro & Voyager supporting ENC charts is an important step for us, skippers and commercial shipping. A big advantage is the possibility to combine the vector charts with our own hybrid (DKW) charts and the route network in WinGPS. Supporting both vector and grid charts gives us the opportunity to combine the best of both worlds for a safer and smarter navigational system aboard.
Our new software WinGPS Inland Navigation, expected spring 2019 and specifically developed for commercial inland shipping, has already been added to the accepted navigational software of the WSV. Follow this link for the actual list.
installing ENC charts in WinGPS 5
Follow this link for an explanation on how to install ENC charts in WinGPS 5 Pro & Voyager.
Current and tides 2019
When you have WinGPS 5 Pro or Voyager 2018, and are planning a trip along the North sea or Waddensea, don't forget to update the current and tidal information. This way you will have the correct data for the entire year.
This can easily be done via 'Help - find updates' and following the steps. Users of WinGPS Marine+ receive an update message at start up. After downloading, you will have the data for currents and tides for the entirety of 2019.
| | |
| --- | --- |
| Chart without tidal data | Chart with tidal data |
Current and tides update for older WinGPS 5 editions
When you are using WinGPS 4 Pro/Voyager or have an older edition of WinGPS 5 Pro/Voyager (2017 or older) you can purchase the current and tides 2019 in our online shop.
---
Service Card 2019

License holders of WinGPS 5 Pro/Voyager 2017 or older can still purchase the Service Card. You will receive the current and tidal data 2019 for free with all other WinGPS 5 2019 updates and will receive € 20,- discount on all 100% Stentec DKW charts.