Laptop navigation with WinGPS 5 Navigator
Digital navigation is a common topic among sailors these days. Would you rather choose a laptop with a clear and large screen or a handy tablet?

During the coming weeks we will send you news letters with a different highlighted navigational system each time. We want to help you with your decision for the best navigational solution based on your ship, sailing area and wishes.

Laptop navigation with WinGPS 5 Navigator
When digital navigation is a new concept for you, or when you only sail day trips along the inland waters, WinGPS 5 Navigator is ideal for you. Choose the charts for your sailing area, enter the dimensions and speed of your ship and start planning your route with just a few clicks.

With the addition of the route network for all West-European waterways, including pictures, measurements and operating times for bridges and locks, you get a complete overview of all places you can and, more importantly, can't go with your ship.
When a GPS is connected to your laptop you will get a clear view of your location, speed and course and which course you need to steer for your planned route.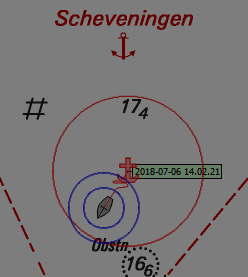 A familiar base for onboard navigation
Navigation is not just plotting a route or determining your position. Once you've arrived at that beautiful anchor location, the anchor watch option is a great tool. At night, keep your laptop turned on in night view with anchor watch enabled. You will receive an alarm when your boat has broken away and you will immediately see your current position on a tinted screen for better visibility at night.
Plotting, measuring and logging
When using paper charts it is preferable to mark your position every few minutes with a ruler and pen. In WinGPS 5 you can use the distance measurer to measure the course and distance between two points. And with the help of custom waypoints you can mark the points on your chart. During your trip you can start a new log. Your position, speed and course are automatically saved every few minutes which makes it possible to check your track when something goes wrong.
Well begun is half done
Until recently, it was very usual to go and check the days weather forecast at the local marina office and decide whether or not to start your trip. Nowadays this can easily be checked via the internet on your smartphone. It is also possible to download so-called GRIB-files in WinGPS 5 Navigator, with which you can see the weather forecasts on top of your chart for the coming 7 days. When using the time bar you can quickly see the expected weather on-screen.<

When the forecasts are good you can do a last check for chart updates, making sure you are going to sail on the most up-to-date charts. You can also print crowded or difficult waterways for backup. This way you can start your trip with a clear conscience and enjoy your day on the water.
Older WinGPS 5 Navigator?
When your edition of WinGPS 5 Navigator is of 2017 or older you can upgrade to the 2018 edition. In the 2018 edition managing your routes has become easier and new buttons are added for extra customization of your charts and the data, for example tracks, displayed on top. Click here for a complete overview of all new functions and changes going back to WinGPS 5 Navigator 2011.




WinGPS 5 Pro & Voyager
WinGPS 5 Navigator is the basis for the WinGPS series. When you want more functionalities, such as seeing AIS on-screen, current and tidal information or plotting optimal routes while using your polar diagram, you can upgrade to the more advanced versions of WinGPS 5, namely WinGPS 5 Pro or WinGPS 5 Voyager.