The new edition contains about 100 revised chart. Some are small changes or processed NtM-Messages. On ID10, the chart C27 is completely redrawn. There are also a few detail charts of popular harbours added to the collection like "North Queensferry and Port Edgar". For sailors on the waters of the Antilles it is worth mentioning that the charts of St Martin on ID100 are replaced. 
The 2014 edition of the DKW Imray charts are available in our
Online Shop
. There are advantageous upgrades available for 2013 license holders. 
New charts in the 2014 edition (in comparison to the 2013 edition of January.) 
ID10
C28 Harwich to Wells-next-the-Sea
C30 Harwich to Hoek van Holland and Dover Strait
C68 Cape Wrath to Wick and the Orkney Islands
C1 Thames Estuary
C23 Fife Ness to Moray Firth
*C25 Harwich to River Humber and Holland
*C26 IJmuiden to Die Elbe
*C30 Harwich to Hoek van Holland and Dover Strait
Y18 The River Medway & Approaches
C27 Firth of Forth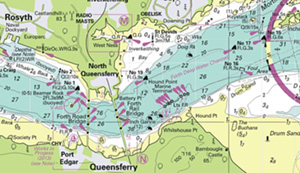 *Includes detail of the new TSS and routeing measures off the coast of the Netherlands
ID20
C1 Thames Estuary
C4 Needles Channel to Bill of Portland
C15 The Solent
2200.4 Chichester & Langstone Harbours
2200.5 Portsmouth Harbour & Approaches
C32 Baie de Seine
Plus chart 2400.3 Isles of Scilly has been added to improve coverage around the Isles of Scilly
C9 Beachy Head to the Isle of Wight
C35 Baie de Morlaix to L'Aber-Ildut
ID30
C54 Galway Bay to Donegal Bay
C58 Trevose Head to Bull Point
C63 Firth of Clyde
C68 Cape Wrath to Wick and the Orkney Islands
2800.2 Loch Crinan to Garbh Eileach
2800.3 Cuan Sound to Loch Spelve and Kerrera Sound
2800.4 Oban to Loch Aline and Port Appin
2800.5 Loch Aline to Tobermory and Loch Sunart
2800.6 Loch Linnhe South and Loch Creran
2800.7 Loch Linnhe and Loch Levan
Also, four new charts are offered to improve large-scale coverage of Mull and adjacent coasts:
2800.8 Iona to Carsaig
2800.9 Treshnish Isles and Ulva
2800.10 Tobermory to Loch Eatharna
2800.11 Tiree to Loch Eatharna
C69 Loch Ryan to Belfast Lough and Strangford Lough
2900.2 Loch Fyne
2900.3 Lower Loch Fyne and Inchmarnock Water
2900.4 Upper Clyde
2900.5 Loch Long and Gareloch
Also, includes a new chart in the Firth Of Clyde:
2900.6 Kyles of Bute and Burnt Islands
C65 Crinan to Mallaig and Barra
C67 North Minch and Isle of Lewis
Plus chart 2400.3 Isles of Scilly has been added to improve coverage around the Isles of Scilly
ID40
C39 Lorient to Le Croisic
two new charts are offered to provide detailed coverage of Madeira and the Azores:
E1 Arquipélago dos Açores
E3 Arquipelago da Madeira
C19 Cabo Finisterre to Gibraltar 
C48 A Coruña to Porto
Chart 2400.3 Isles of Scilly has been added to improve coverage around the Isles of Scilly
C35 Baie de Morlaix to L'Aber-Ildut
C42 La Rochelle to Santander
ID50
M11 Gibraltar to Cabo de Gata & Morocco
M13 Dénia to Barcelona and Ibiza
M14 Barcelona to Bouches du Rhône
ID60
G1 Mainland Greece and the Peloponnisos
M30 Southern Adriatic and Ionian Seas
ID70
G2 Aegean Sea (North)
G28 Nísos Khíos & the Coast of Turkey
ID100
A23 Virgin Islands and St Croix
A30 Martinique
A28 Guadeloupe
B1 St Lucia
A231 St Thomas to Virgin Gorda
A232 Tortola to Anegada
A24 Anguilla, St Martin and St Barthélémy