Service card discount just another couple days: order now!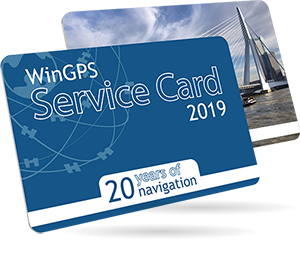 Make use of our special offer to purchase the Service Card 2019 for only € 60,- up until the 3rd of december 2018.
With the WinGPS Service Card 2019 you will benefit from:
Be the first to receive WinGPS 5 2019 (worth € 70,-).
All updates for WinGPS 5 2019: route network, bridges &
locks and new features.
Early acces to the exclusive bèta version of our WinGPS app for iOS.
€ 20,- discount on all 100% Stentec DKW chart sets 2019 editions.
Free NLTides currents & tides for 2019 worth € 19,90 (Pro and Voyager).
Free installation of Stentec products (in our store in Heeg).
Exclusive fair and event offers.
A lot of WinGPS users were ahead of you!
Who is the Service Card for?
The Service Card is for all WinGPS 5 Navigator, Pro and Voyager license holders. Even when you have an older version of WinGPS 5, you can purchase the Service Card 2019 to update your navigational program.