DKW The Netherlands 2019 available now!
The 2019 edition of the DKW The Netherlands is now available. Ideal when you are planning a route on the many lakes, channels and rivers in The Netherlands. Even the smallest lakes and fosses are available, from 0,6 meter depth.

A lot of updates were added to the new edition. Below you will find an overview with the most important updates. When you already have the 2019 edition of the DKW The Netherlands, you can download the updates right away. In WinGPS 5 via the News Center or in WinGPS Marine at startup of the app.

New in 2019

Between the Randmeren and the IJssel, south of Kampen, a new waterway was added: the Reevediep.
In Leeuwarden, a special route has been added for dinghies between the Potmarge and the Van Harinxmakanaal. A new shortcut has been added from the Kurkemeer to Tijnje.
The 3rd lock chamber for the Beatrixsluizen in Nieuwegein is now available for use.
Between Schiedam and Delft a curve in the waterway has been cut off.
A new lake has been formed east of Grou, between the Wijde Ee and the Pikmeer: the Suderburds Wiid.

Optimized for 'course up' mode

The DKW The Netherlands is optimized for 'course up' and 'head up' mode. This has been realized by taking a large number of city names and area names off of the chart and placing them in waypoint groups. Waypoint labels remain upright with a rotating chart. A big advantage is a calmer chart image. The 'course up' mode is available in WinGPS 5 Pro & Voyager and WinGPS Marine Plus.

Discount

When you have the 2018 edition of the DKW The Netherlands, we offer a special upgrade price. In our shop, choose '2018 edition' at the 'upgrade from' option an follow the steps. When you have our Service Card 2019, you will receive an additional € 20,- discount making the upgrade cost only € 59,90!

DKW The Netherlands 2019 in 'course up' mode.

The new lake between the Wijde Ee and the Pikmeer near Grou.
WinGPS 5 of WinGPS Marine
All DKW chart sets can be used in both WinGPS 5 for Windows, WinGPS Marine for Android and in the bèta version of WinGPS Marine for iOS.
Need help installing?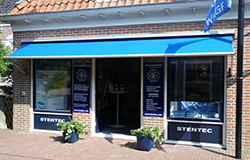 The DKW The Netherlands 2019 is available in our online shop, our store in Heeg and through our dealers.
When you want help with purchasing or installing the charts, you can contact us via our contact form or visit us in our store. Here we can install the DKW The Netherlands and all of our other charts right away. We advise you to make an appointment beforehand.
When you have a good working internet connection, we can even install the charts remotely via Teamviewer.