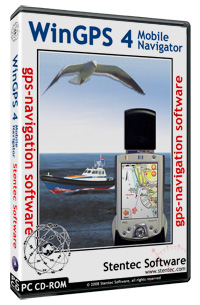 Stentec's New WinGPS 4 Mobile Navigator is specially designed for GPS-navigation with your handheld PC or PDA on board.


- WinGPS 4 Mobile Start-Up sheet
- An english manual will follow
Buy this product
To the shop
Specs WinGPS 4 Mobile Navigator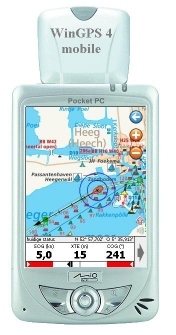 Useful for all charts using WinGPS 4, like DKW 1800, ANWB, Navkom and charts which were reset from DKW1 to DKW2. Also suitable for charts made in DKWBuilder. Also supporting the most common BSB4 charts.
You will get to see all charts without borders as one big picture on your screen. Ideal for planning routes on multiple charts. No chart names to remember, but only zoom-in and –out. Multiple chart sets to use simulteneously.
Position and sailed routes to plot, when an NMEA-0183 compatible GPS is connected you can see your course line and position.
Groundcourse (COG), groundspeed (SOG) and WGS84 coordinates. Chart rotation: Chart Up, North Up, Leg Up (along route line) and Course Up and Automatic center to get as much chart in front of your cursor.
Plan routes by using waypoints and sail alongside with a XTE indicator. Optional: scale indicator and North arrow Installation, delete and update (only DKW1800) charts by using DKW Manager.