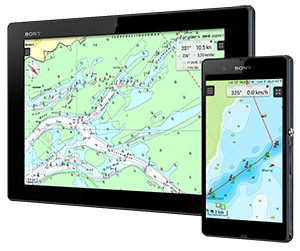 WinGPS Marine
Onboard navigation using your Android tablet or smartphone.
With this app, route and waypoint navigation on nautical charts is easier than ever. With weather & tide predictions and AIS you can create extra safety on board because you know what's coming. Connect your onboard equipment via wifi or bluetooth with WinGPS Marine Plus.
WinGPS Marine is upgradable in stages:
WinGPS Marine Lite

When first installing the app you will get WinGPS Marine Lite. This version is limited functionality. With your GPS (internal or bluetooth) you get the SOG and COG and you will see the current position on your screen.
---
WinGPS Marine

WinGPS Marine is the navigation app that allows true marine navigation on your Android device. In this app you can use the digital nautical charts for route planning with GPS via WIFI or bluetooth. You can also get data from AIS, GRIB meteo and record the tracks you have sailed. Use the built-in "timebar" to see the developments of the wind, rain, air pressure and AIS plotted on the screen.
---
WinGPS Marine Plus

The WinGPS Marine Plus upgrade provides you all the best of the Marine Apps. This advanced navigation app helps you plan routes under every condition. You can connect your board system using a wireless connection and use all this data to your advantage. The tidal & current predictions can be displayed in the data plotter, and on your chart screen.