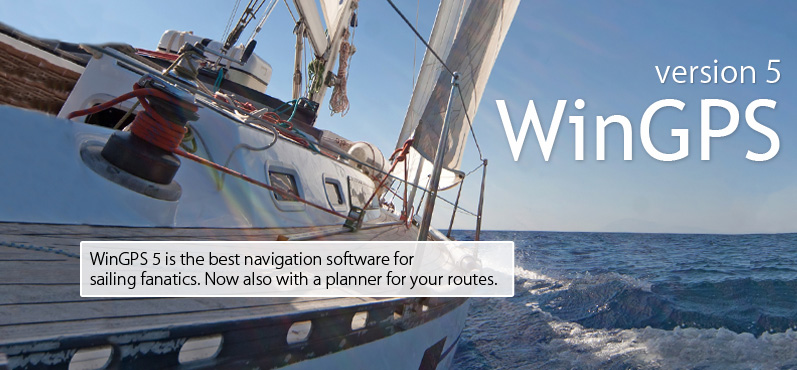 Route planner for open- and inland water.
Turn your laptop into a complete navigation system with WinGPS 5. Based on the experience of thousands of WinGPS 4 users and our extensive experience in the nautic world WinGPS 5 is our best product ever. You can create a route designed for your ship within a few clicks based on your measurements.
WinGPS
There are 4 products in the WinGPS 5 series:
Freeware which allows you to plot your position as well as your course, speed and tracks.
Basic program with route planner for The Netherlands.With a.o. weather forecast, log, anchor alarm and nightscreen.
Mostly suited for motorboat/inland waters. WingPS 5 Pro allows you to connect (trough a multiplexer) your navigation instruments to your laptop, turning it into a complete navigation system. Connect your AIS receiver and you will see all AIS targets and their information over your charts.
Our top product and designed specifically for sailors and regattas. The route planner considers your ships polar diagram making the route unique for your ship. With functions like GRIB forecast,NLTides and AIS XT, this program will give save you a lot of time while planning long voyages.

To start navigating with WinGPS you need the following:
WinGPS program
Digital Charts
Hardware (GPS)
---


Along with your navigation software, you will need charts. Besides our own charts (a.o. Hydrographic charts and Imray) our program is suited for the renown BSB charts from NV Verlag. The available charts cover the majority of the world.
A great advantage of our charts is our update service. The most popular are our DKW1800 charts, which feature a weekly online update service, keeping your charts safe.
Hardware
In order to see yourself sailing you will need a GPS receiver. We can provide you with a reliable USB GPS receivers which are easily installed.
WinGPS 5 Pro and Voyager allow you to connect other NMEA instruments as well, such as AIS, Autopilot and depth meter.