We are proud to announce that the 2017 editions of WinGPS 5 are available. With this versions we are able to make your vacation or journey even more safe and easy! Below you will find a summary of the new functions, important additions and changes.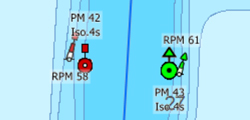 Smart labeling
Thanks to Stentecs new Smart labeling technology you will have a better and clearer chart view. Overlaying name labels for bridges, locks and waypoints is a thing of the past as the labels will no longer be placed directly beneath the waypoints. This also has a positive reaction when sailing Course-up or Head-up with a rotating chart view. Also the locks are now projected with both doors, on the correct positions, for a more realistic chart view on detailed scales.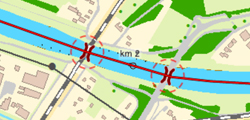 Obstacles waterway network
Non passable routes will no longer be displayed by a dotted line. All non passable obstacles along the route will be displayed with a circle (see image). This will help significantly for identifying why your route can not be passed. By adding new route waypoints the obstacles can be avoided.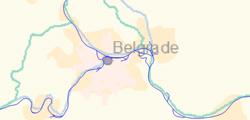 Extended waterway network
The waterway network is extended with the addition of the Danube up to the Black Sea. The detailed waterway network now extends to a total of 45.842 km and has a total of 13.644 bridges and 2.635 locks.
Instrument communication (Pro and Voyager)
When a connection with one of the installed instruments was lost, users didn't receive any message regarding this issue (with the exception of GPS data loss). With this new feature WinGPS will try to fix the broken link for a total of 5 times before giving a message regarding the lost connection. This will help you by giving you direct information about your data loss.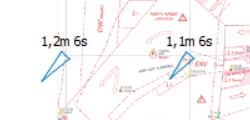 Wave predictions (Voyager)
Plan a comfortable route with this new mode in which high waves and sharp-to-hauled courses are avoided. View the GRIB data for the Noorthsea, Waddensea, IJsselmeer, Markermeer and Randmeren.
Waterway information will now be displayed without starting an route. Important information like waterway name, km and VHF can now be displayed at the 'Routeplanner information' screen.
Larger display for Time to Go (TtG), Distance to Go (DtG) and Estimated Time of Arrival (EtA) in 'Edit route' mode. Helpful when making a new route or optimizing an existing route.
Newest data for the waterways and the service times for bridges and locks added to the waterway network.
Scaling factors for custom waypoints are now adjustable for an optimal chart view without overlaps. With this option you can apply from which scale waypoints need to be projected on the charts. The scale can be set via the waypointmanager.
The memory usage for WinGPS has been lowered by a maximum of 1,5GB thanks to better management for the bridges and locks picture database. Plotting long routes and the projection of hundreds of AIS objects will also be smoother.
NLTides 2017 database for stream and tidal information (Pro & Voyager).
The online OSM chart layer has been replaced with the online ESRI Topografic chart layer.
The km marks along the waterway are added to the waterway network. It is recommended to turn off the waypoint group with km marks which are available with chart sets from 2016 and older. Chart sets from 2017 and newer will no longer have this waypoint group.