Hybrid charts add safety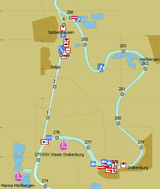 Our new DKW IENC Germany charts are available now in our online shop.
The new hybrid charts in DKW format are recommended for navigation on the German rivers.

Hybrid charts offer the best of both worlds; the fast chart processing of raster charts and the clear waypoints of vector charts.

While installing the charts, we automatically install a waypoint database. This database is seperate from the charts, so even when you rotate the chart, the waypoints will be clear.

Updating your WinGPS 5 and DKW Manager is needed for showing the waypoint database.
DKW IENC Rhine and North

DKW IENC are split in 2 parts;

Dortmund-Ems-Kanal, Mittellandkanal, Mittelweser, Elbe-Seitenkanal, Elbe, Elbe-Havel-Kanal, Unter-Havel-Wasserstraße (Spandau- Plaue), Havel-Oder-Wasserstraße, Westoder, Berlin-Spandauer-Schifffahrtskanal en Spree-Oder-Wasserstraße.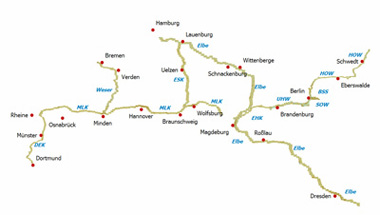 Rhein (Lobith-Iffezheim), Ruhr, Rhein-Herne-Kanal, Wesel-Datteln-Kanal, Mosel, Saar, Main, Main-Donau-kanaal, Donau en Neckar.

Both charts show kilometers, VHF channels and signs.

We recommend WinGPS 5 Navigator, Pro or Voyager in combination with the DKW IENC charts thanks to the network of (a.o.) Rhine, Saar and Moessel.

We would appreciate input from our users to improve our first version. Feel free to mail us.





| | | |
| --- | --- | --- |
| | | |
| DKW IENC Rijn | | DKW IENC Noord Duitsland |